What People Say About the Conference:
Want your voice heard about the conference? Join the conference forum.
View these videos to see how past participants view the conference.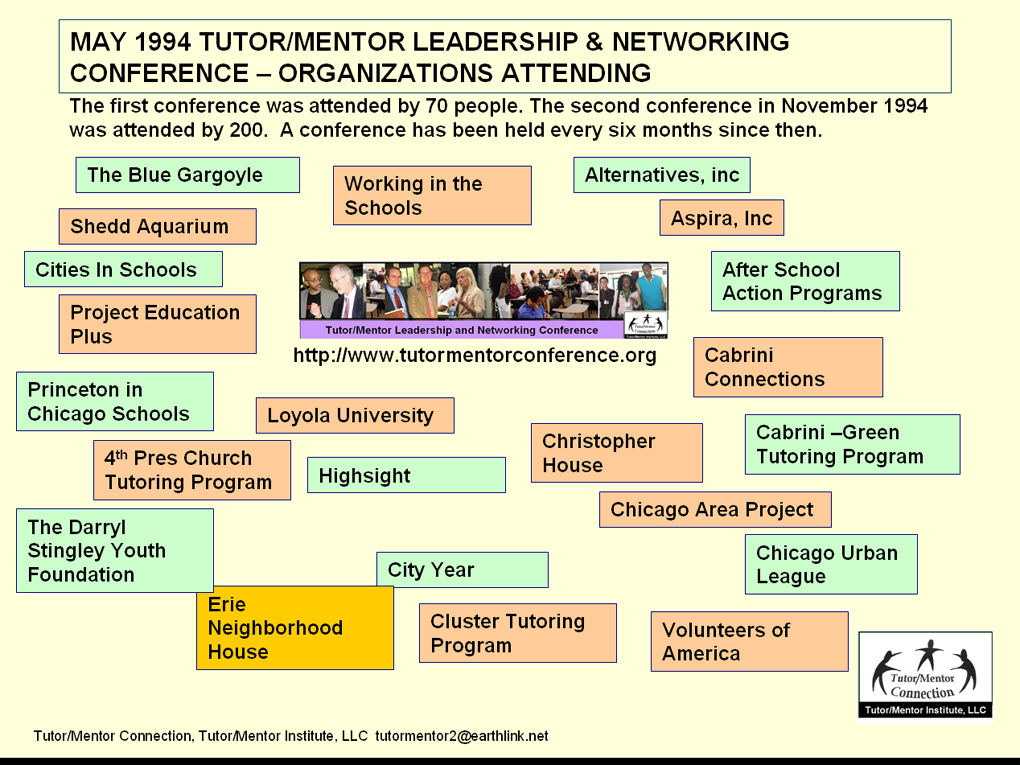 This map shows organizations who participated in the first conference in May 1994. The conference has been held every six months since then. View the attendee list to see participants and organizations since 2007. View these maps to show organizations who participated in other past conferences.
This letter was written by the leaders of a small organization who was aided by Tutor/Mentor Connection in the late 1990s.
Below are some other comments from past participants.
I really enjoyed the conference and meeting everyone-- the experience was so informative and reaffirming. Since I'm relatively new to this whole business, I felt like we were the only organization struggling now with funding and exposure. It was great to hear other people talk about their organizations and not feel so alone. I look forward to staying connected as well. As promised, I'm sending a link for the blog post I did about the conference. I put in the picture of you and Tramaine that I took as well. You can visit it at femioutreach.blogspot.com Natalie Reichart, FemiOutreach
What a great day Friday was at the Tutor/Mentor Conference in Chicago! This is either my 3rd or 4th one and I learn something new every time that enhances my programming and benefits my young people! Alysa Lewandowski, Tutor/Mentor Program Coordinator

at

CEP Youth Leadership (This was posted on Linked In. Add your own comment)

The conference was great! The video should be up next week-ish.
I am dropping it off with the person that does the editing on Friday. Jordan Hesterman, ED, Becoming We the People

Thanks so much for getting me involved in the event! It was such a great experience. I'll be sure to get my team energized about
participating in the next conference.
Whitney Capps, Step Up Women's Network

Just wanted to thank you for the invitation to this years inspiring Mentoring conference. On behalf of BUILD and personally myself,
thank you for the experience, opportunity and learning space.
Guillermo Gutierrez, B.U.I.L.D.
I wish I could pay you for your decades of work without the proper pay. Philip Jackson, ED, Black Star Project
We met years ago when I worked at Erie House and later, when I ran the UPrising Youth Program in Little Village. I sent my staff to some of your Tutor/Mentor Connection events which they always loved and had much to share afterward. Message received on Linkedin, 2014