Conference Strategy:

When leaders and volunteers connect, they share ideas and help each other!
The conference is part of an ongoing strategy aimed at building connections between the people leading tutor/mentor programs, the people who are volunteers, and the people who provide the money so that high quality tutor/mentor programs can reach more K-12 youth in high poverty neighborhoods in Chicago and other cities.
While each conference only brings a small number of people together, the communications and networking before each conference draws the attention of thousands of people to information hosted on web sites and blogs that can be used to build a better understanding of where and why tutor/mentor programs are needed along with what business, faith groups, universities and people beyond the management team of a non profit can do to make high quality programs available in more places.
Goals:
Bring together 100 to 150 leaders representing volunteer-based tutoring and/or mentoring programs, foundations, business, media, k-16 education and the faith community.
Provide learning that program leaders, volunteers, donors can take back and apply in their own activities, in their own neighborhoods and communities.
Share understanding of how volunteer-based non-school tutor/mentor programs are a valuable learning support and a key component of education reform, workforce development, violence prevention, and civic engagement.
Increase visibility and idea-sharing so that more tutor/mentor programs have the resources for program improvement that leads to stronger programs as school starts in September 2014. Links to Chicago programs can be found on the Tutor/Mentor Connection web site.
Identify and build commitment for shared actions, such as the August/September Tutor/Mentor Volunteer Recruitment Campaign, that will strengthen existing programs and help build new programs.
Great programs in all neighborhoods, not just a few places.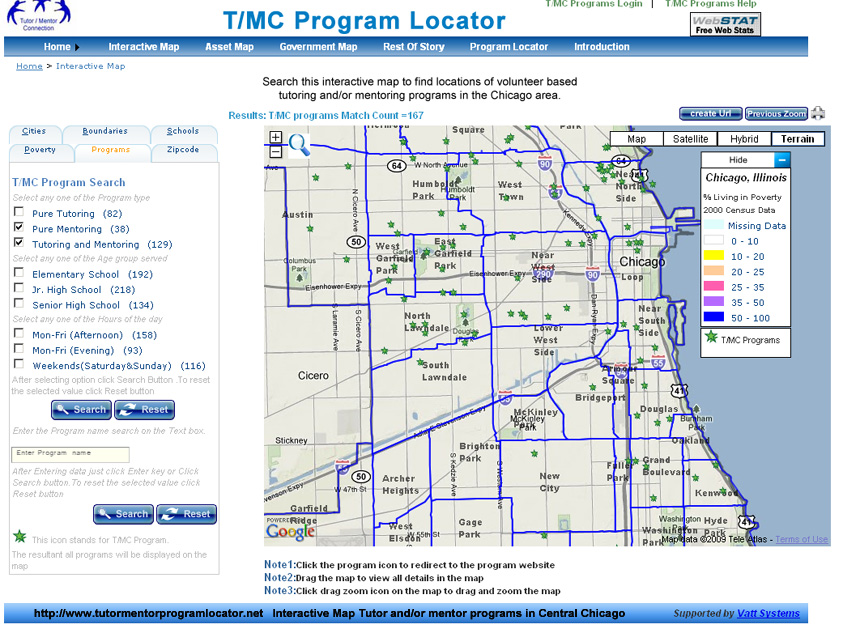 This map shows locations of different non-school tutoring and/or mentoring organizations in the central part of Chicago. It was created using the Chicago Tutor/Mentor Interactive Program Locator. Learn how you can duplicate this service in your own community.
View 2011 video that describes Tutor/Mentor Connection Year-Round Strategy. http://www.tutormentorexchange.net/cabrinivideos/191-year

In the months between the May and November Conferences, we invite you to network with the T/MC via blogs, such as http://tutormentor.blogspot.com and forums such as http://tutormentorconnection.ning.com.

Share your story. Share your experience.

If you or your organization would like to offer a workshops at a future conference, please email tutormentor2@earthlink.net to discuss your involvement.