What do all volunteers with full time jobs, leaders of tutor/mentor programs, teachers in classrooms, members of volunteer boards-of-directors have in common? A commitment to do the best they can and not enough time to read and reflect on the vast amounts of information that is available on-line (and shared each month in this newsletter!)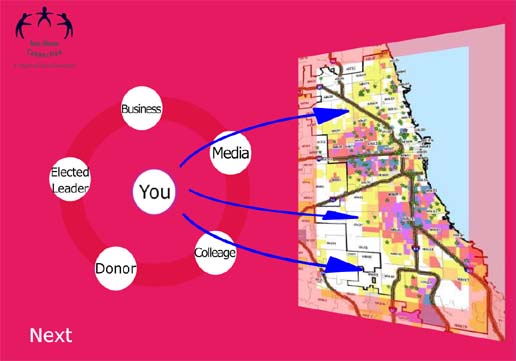 Image created by Tutor/Mentor Institute, LLC
This graphic was created by an intern working with the Tutor/Mentor Connection. It shows that any one of us has the ability to connect people we know with information we can use to help kids in all parts of a big city like Chicago. Engaging students in projects that create graphics like this is one way to connect them with volunteers who might expand the student's understanding of technology, data and graphics. It's also one way to create collaborative learning and draw viewers from among family, friends and neighbors of the students creating these graphics.
See more like this at http://www.tutormentorexchange.net/definition-of-issues/ideasanimation
Every day is a Learning Day
Have you listened to any of the video presentations by Sir Ken Robinson? This blog article provides a link to one and offers some thoughts on creating learning communities. http://tutormentor.blogspot.com/2012/09/i-want-to-do-better-but-dont-have-time.html
------------------------------

This weekend! Connect with others during September and October in these events:
American Graduate Day - Saturday, Sept. 22. http://americangraduate.org/grad-day
Follow on Twitter at #AmGrad
See what's happening in Chicago - http://www.wttw.com/main.taf?p=87,1

Live Education Nation Conference (9/24-26) broadcast - click here
During September join the #TalkPoverty Twitter campaign urging Presidential and Vice-Presidential debate moderators to ask questions about improving policies for children.

Image created by Tutor/Mentor Institute, LLC
Learning is not just for youth! If you are a volunteer tutor or mentor here are some resources that you can use to help you throughout the coming year. If you serve on the Board of Directors of a tutor/mentor program the articles in the Research Section may interest you.

Homework Help Links - http://tinyurl.com/TMC-Homework-Resources
Mentor Training - http://tinyurl.com/TMI-MentorTraining

Tutor Training - http://tinyurl.com/TMI-TutorTraining
Research Section of Tutor/Mentor Connection Library - http://tinyurl.com/TMI-ResearchLinks
Drop Out Prevention 9/18/2012 webnar slides
http://www.dropoutprevention.org/sites/default/files/uploads/webcast/Sepember_webcast_2012.pdf

Center of Excellence web resources - http://www.fmucenterofexcellence.org/index.php?option=com_content&view=article&id=76