The May and November Tutor/Mentor Leadership & Networking Conferences are places where people and ideas we connect to via the Internet can meet face-to-face and build relationships that grow in the months between each conference.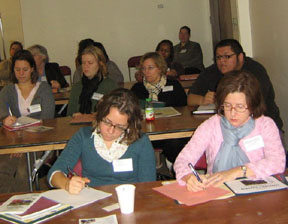 Image created by Tutor/Mentor Connection

The next conference is November 4, 2011 and will be held at the Metcalfe Federal Building in Chicago. Registration is now open. Visit this Agenda Page to see the workshops and panel discussions that will be offered. http://www.tutormentorconference.org/agenda.asp Group rates are available for organizations bringing three or more people and planning to cover all workshops. Email tutormentor2@earthlink.net to discuss.

There are multiple choices of great workshops throughout the day. Here are a few

Challenges of Non Profits - Panel Discussion of Tutor/Mentor Program Executive Directors, focusing on Fundraising in difficult times, Managing a small NPO, Emergency management of an NPO. Panel of Executive Directors from Working In the Schools, East Village Youth Program and The Black Star Project.

The Right Mentoring Option for the Right Mentor, presented by Sue Sowle, Project SOAR at McGaw YMCA.

Understanding and Applying Elements of Effective Practice of MENTOR, the National Mentoring Partnership, presented by Dr. Clara Carter, former Director of Training for the Maryland Mentoring Partnership.

Thank you to everyone who has volunteered to offer a workshop. Check the attendee list to see who has already registered. Add your own name when you register.

Become a sponsor and help offset costs of conference planning, scholarships and group rates!
http://www.tutormentorconference.org/sponsor.asp