Tutor/Mentor Institute, LLC, with partnership from Becoming We the People and The Social Justice Council at the First Unitarian Church in Hyde Park, will host a one day Tutor/Mentor Leadership and Networking Conference symposium focusing on "Advancing Equality in Education" . This will run from 8:30 am till 1pm and will consist of a series of panel discussions and breakout sessions. Speakers and panel members are now being recruited. See more information about the conference at http://www.tutormentorconference.org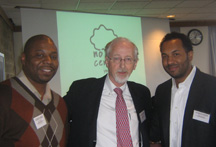 Image created by Tutor/Mentor Institute, LLC

There will be three panel discussions which will include:
Celebration of Tutor/Mentor Program Successes: Speed Networking. Up to 10 programs will have 5 minutes each to describe a success strategy of their 2011-12 program. This could be a program activity, a fund raising strategy and/or a volunteer-recruitment strategy. Handouts required or links to blog articles where the idea is shared.
Education Improvement and Social Justice in your programs: The Why and How
This discussion will involve several short presentations from people that are working on the fight to improve education and also working on other school initiatives (example, community garden hosted by a school; student video project; civic education, etc.).
How do we find resources to support constant improvement and operations of tutor/mentor programs and others serving youth and families? What are some ways you raised money to operate during the year; b) if you were attending the National Volunteerism Conference scheduled for the third week in June, what one or two things would you want to learn; c) how can we work together to increase the flow of needed resources to all of the programs working with kids
During the panels there will also be table-discussions hosted by conference participants who want to share information in small group discussions. There will also be a handout table for information to be shared
Each of the panels will be video-taped and posted to the video library at http://www.youtube.com/watch?v=9GwAF_Qga-Y
The fee to attend will be $20. A continental breakfast will be served. No lunch. No fee for participants in panel discussions. Visit http://www.tutormentorconference.org for details.
National Conference on Volunteerism and Community Service to be held in Chicago, June 18-20, 2012 http://www.volunteeringandservice.org/

You can share information about your own events if you join the Tutor/Mentor Connection forum at http://tutormentorconnection.ning.com or our group on Facebook at http://www.facebook.com/groups/TutorMentorInstitute/