"Child Poverty Costs the US Economy the equivalent of over $5 billion a year" was one of the statements made by speakers at the March 2, 2012 Voices for Illinois Children's event in Chicago. Patrick McCarthey, President of the Anne E. Case Foundation, said "In a nation obsessed with statistics, I would love to see a fraction of that energy focused on the well-being of children and families."

-------------------------------------------------------

The information shared in this newsletter is intended to help leaders at every level of society find new ways to build and sustain efforts that expand the adult and community supports available to help youth in high poverty areas of Chicago and other cities.
----------------------------------------------------------------

Last October I attended a National Drop Out Prevention Conference. The map below shows different organizations I met through the workshops and networking at the event. It also points to organizations and information I've learned from in previous events focused on lowering the high school drop out rate. This map can be viewed live at http://tinyurl.com/2011DropoutConf-Network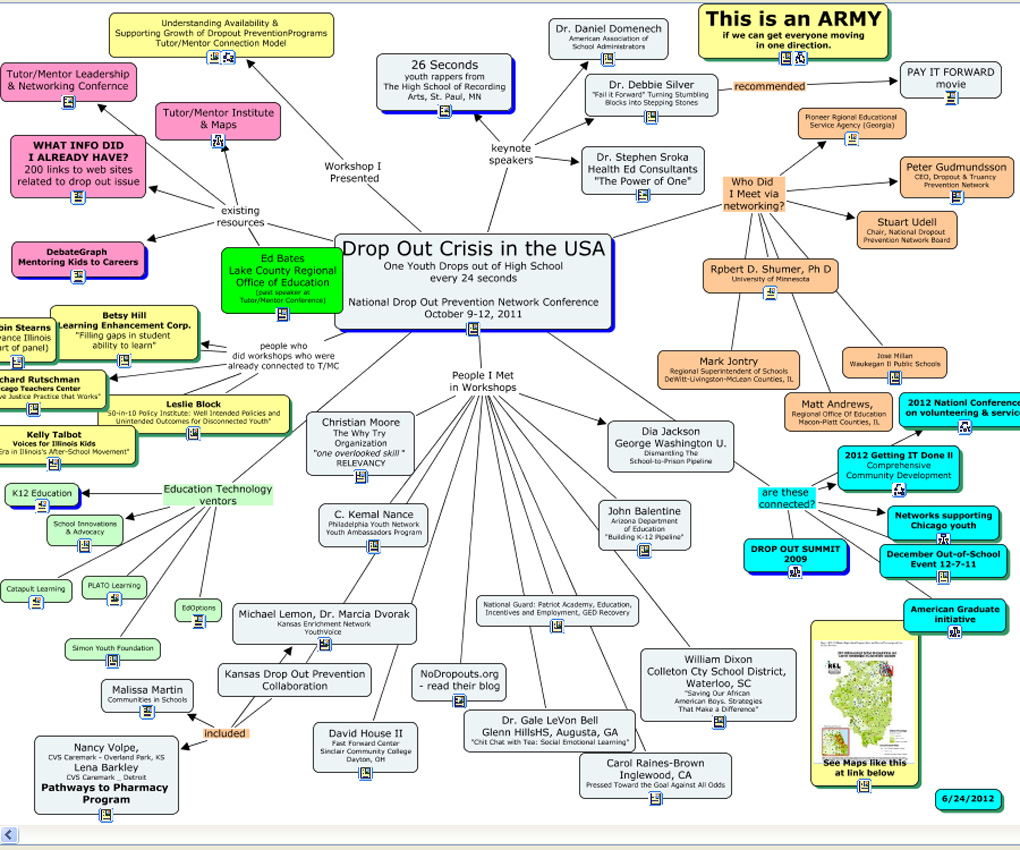 Image created by Tutor/Mentor Institute, LLC
Since January I've attended a few other conferences and seminars of interest. The links below point to blog articles I wrote with information and links related to each of these events. If you follow the links from these articles the people and resources I connected with will become resources for you and your own network.
March 5-6 - Getting It Done ll Conference connected community development organizations from around the country. See map and article at http://tutormentor.blogspot.com/2012/03/power-of-connected-networks.html . This conference was hosted by The Institute for Comprehensive Community Development - This blog article written by John McCarron summarizes day two of the event. http://www.instituteccd.org/news/3640
March 3 - Voices for Illinois Children Seminar - Release of Kids Count 2012 - Each year the Anne E. Casey Foundation compiles data about the well-being of children and families across the county. In each state this data is used to support local initiatives. Read this blog and follow the links to the Voices for Illinois Children web site, http://tutormentor.blogspot.com/2012/03/investing-in-children-creating-public.html
One of the resources made available by the Anne E Casey Foundation is a Kids Count Data Center, where you can create your own maps and reports to show well-being of youth in your city or state. Participate in this "Navigating the Kids Count Data Center" webinar on March 21 - http://voices4kids.org/getinvolved/attendanevent.html
February 28 - Changing Worlds reception described results of "longitudinal study to measure the difference the arts and culturally responsive teaching practices have on a child's academic and social development." Read more about this at http://www.changingworlds.org/unlocking-pathways-to-learning-162.html
February 10 - visited Global Citizenship Experience Charter School in Chicago - Read about student learning in this blog - http://gcevoices.com/
Jan. 24 & 25 - National Mentoring Summit - the materials, videos and presentations are now available on line at http://www.mentoring.org/summit2012
More than 2000 links in Tutor/Mentor Connection on-line library. All were reviewed and updated during February 2012. These are intended to support leaders, volunteers, philanthropists, business leaders, students, etc. in collective efforts aimed at helping young people move from birth to work. See http://tinyurl.com/T-MC-Library

Many of these links focus on Chicago. If you're collecting similar information, focused on a different city, please share the link to your library and I'll add it. If you'd like to submit a link to the library just register, log in, and use the "Add a New Link" feature to suggest a link. These are moderated and if approved, your link will be added to the site.