Below is picture taken more than 10 years ago at the kick off of a Chicagoland Tutor/Mentor Volunteer Recruitment Campaign event in Chicago. In the picture are former First Lady Laura Lyn Ryan, Phil Jackson of the Black Star Project and Paul Vallas, who was CEO of Chicago Public Schools. The Tutor/Mentor Connection started organizing this campaign in 1995 to point potential volunteers and donors to the programs it was listing in a Tutor/Mentor Program Directory that the T/MC first started hosting in 1994.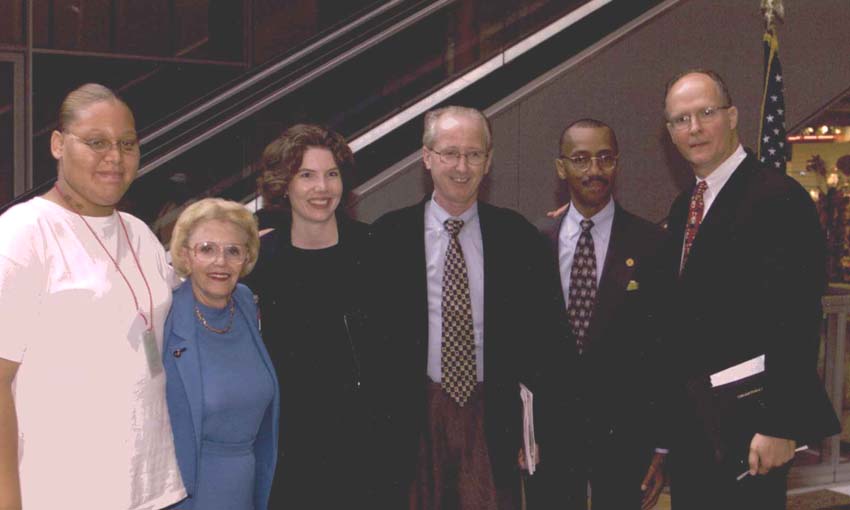 Image created by Tutor/Mentor Institute, LLC
Since 2002 this recruitment campaign has been on the Internet.
During August and September our goal is to encourage individuals, non-profits, leaders from business, politics, religion, entertainment and sports to use their own web sites, blogs and/or social media to encourage people in their own networks to write stories showing how volunteers are connecting with young people in organized tutor/mentor programs.

If these stories point to the links below, they help volunteers, parents AND donors find places where they can become involved. As more leaders take this role more of the different tutoring and/or mentoring programs in Chicago and other cities will be able to connect volunteers and youth as school is starting.
If you're writing stories to support Back-to-School Volunteer Recruitment, share them with us and each other on Facebook, Twitter, Linked in. Include the links below in your stories.
* MENTOR resources and referral service - http://www.mentoring.org/program_resources
* ServeIllinois - http://www.serve.illinois.gov/
* VolunteerMatch - http://www.volunteermatch.org
* Chicago Program Links - http://tinyurl.com/ChiTM-Program-Links
* Additional on-line volunteer search web sites http://tinyurl.com/TMI-Volunteer-Recruitment
------------------------------------------------------------------
Use Tutor/Mentor Connection on-line library. While you can search Google and find information to help you build and sustain a volunteer-based tutor/mentor program, you can also use the T/MC library where I've already aggregated and categorized more than 2000 links to information leaders, volunteers and donors can use to build a collective understanding of where and why tutor/mentor programs are needed, as well as ways to support them more consistently for a longer period of years. See http://tinyurl.com/T-MC-Library

Many of these links focus on Chicago. If you're collecting similar information, focused on a different city, please share the link to your library and I'll add it. If you'd like to submit a link to the library just register, log in, and use the "Add a New Link" feature to suggest a link. These are moderated and if approved, your link will be added to the site.