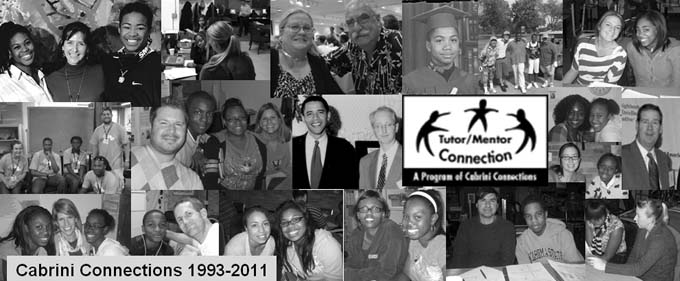 Image created by Tutor/Mentor Connection
Since 1975 I've led a volunteer-based tutor/mentor program connecting inner-city youth with adult volunteers. More than 5,000 volunteers have connected with a similar number of Cabrini-Green area youth over those years. I'm still connected to the first boy I mentored and to many other kids and volunteers who have joined this journey. I've been rewarded by all of the things I've learned and all of the love that has been shared.
I never did this on my own. I've had mentors and people helping me since the beginning. One of the best advise I ever received was from an executive at the Montgomery Ward company where the original tutor/mentor program was created. He said back in 1976, "You obviously don't know much about leading a tutor/mentor program. Why not find people in the city who lead programs and invite them to come to lunch so you can learn from them."

I did. I've been doing that every year since then. The Tutor/Mentor Leadership and Networking Conferences and the entire Tutor/Mentor Connection came from that suggestion. This timeline shows the growth of the T/MC over 40 plus years, starting with the creation of the tutoring program at Wards in 1965.
There have been some bumps along the road. In 1990 I was given one-day to clean out my office at Montgomery Ward as a new advertising executive decided I was not needed. This led me and the volunteers leading the Montgomery Ward/Cabrini Green Tutoring Program to convert the company program into a non profit Cabrini Green Tutoring Program Inc, which enabled us to raise money so I could continue my 17 years leadership, but in a paid role instead of as a volunteer.
In October 1992 the board of the Cabrini Green Tutoring Program gave me one afternoon to clear out my office since we could not agree on a way to operate the program. (I had recruited these people to form a board in 1990 when I left Wards.) This led to the formation of Cabrini Connections and the Tutor/Mentor Connection with the help of six other volunteers from the original program.
Now change is taking place again. The Board at Cabrini Connections has decided to no longer support the Tutor/Mentor Connection strategy for a variety of reasons, primarily the difficulty in finding money to operate the organization. Read more here.

As with in the past, I'm not looking backwards. I'm taking the experiences I've gained, and creating a new structure that I hope lasts another 20 years, and has more success in generating the revenue and support needed to help us help volunteer-based tutor/mentor programs reach youth in every high poverty neighborhood of Chicago and other urban areas of the US and the world.

This is the lesson mentoring is supposed to show. It's not how often you get knocked down that matters. It's how often you get back up and keep moving forward. I've been knocked down in big and small ways over and over during the past 20 years as I've trying to find the resources to build Cabrini Connections and the Tutor/Mentor Connection.

With your help we'll be stronger in the future than we ever were in the past.

To learn more of these changes read these blog articles. To help with creating the Tutor/Mentor Institute and a new Tutor/Mentor Connection, join in this forum or email me at tutormentor2@earthlink.net