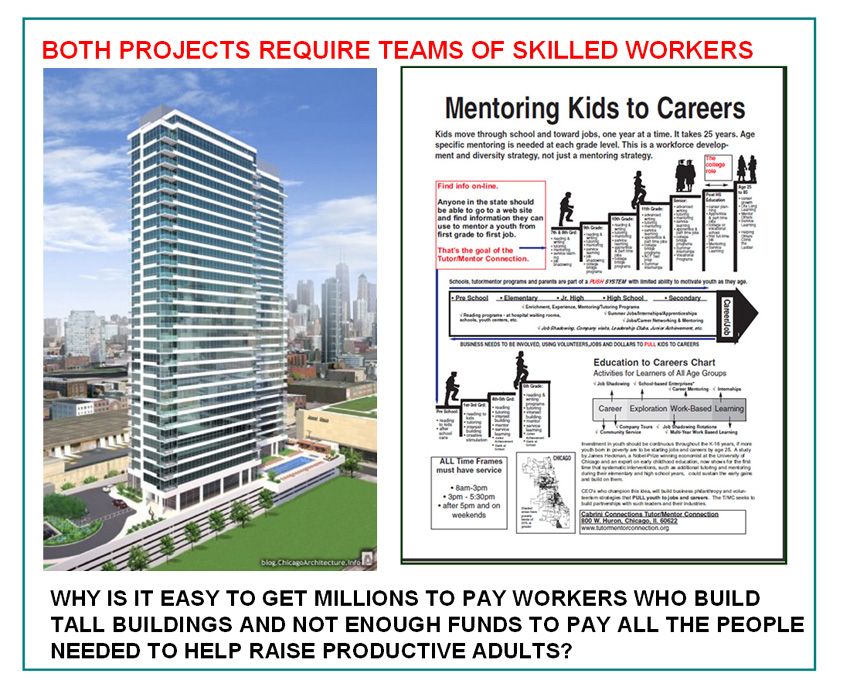 Image created by

Tutor/Mentor Institute, LLC
Since we're celebrating Mentoring during January, it's a good time to ask what mentoring programs hope to achieve from the connections they build between young people and adults. In the Philanthropy sector more and more non profits are being asked to offer "theory of change" and/or "logic models" to show what they are doing and what they are accomplishing.
I think of mentoring as part of an effort to expand the network of adults who are helping kids in high poverty areas move through school and into jobs and careers. This is a long-term process, taking 12 years to go through public or private school and four to eight additional years of post high school work leading to the beginning of life-long careers. If a youth was born in high poverty it's a much more complex process because needed supports need to be built in the community and sustained for many years.
Where you are at age 25 depends on where you were born and what your network is as you grow up, just as much as it depends on what you know as you are beginning your career. Mentoring can help expand your network. How many programs build this into their structure and strategy? How many donors support this with long-term, flexible operating dollars. How can our networking and collective efforts support this strategy?
Below are some articles I've written about this. I hope you'll take a look and share them with others.
Mentoring Kids to Careers. My Theory of Change. http://tutormentor.blogspot.com/2011/12/creating-service-and-learning.html
How Can you Tell What Kind of Program it is? http://tutormentor.blogspot.com/2009/12/how-can-you-tell-what-kind-of-program.html

I point to more than 200 youth serving organizations in the Chicago Program Links at http://tinyurl.com/TMI-ChiProgramLinks Yet many of these sites do not offer a "Theory of Change" or "Logic Model" on their web site. Most don't point to web sites of other programs that they consider "role models" who they'd like to duplicate. Many non profit leaders may not think in terms of process improvement, but consultants and business managers have these skills.
As you celebrate mentoring and are asked to volunteer, consider ways you can volunteer your talent to help programs better communicate their value and their strategies so their web site does more to share their ideas and attract the support they need to constantly improve.

The Tutor/Mentor Institute, LLC is not operating as a 501-c-3 NonProfit, but is still operating with the same level of poverty where many small non profits exist. I am in need of the same talents to help me continue to support the Tutor/Mentor Connection. In fact I've created a TALENT MAP that shows the skills I need in my efforts. I feel others could use the same map to describe talent and skills they also need.
Thank you to those who sent financial support over the holidays. Thank you to Serve Illinois and The Black Star Project for sponsoring the November 2011 Tutor/Mentor Leadership and Networking Conference. If you'd like to help visit
http://www.tutormentorconference.org/HOPE_and_OPPORTUNITY.htm
I'd like to hear from you. Email me at tutormentor2@earthlink.net or join one of the forums I've pointed to.
Best wishes to everyone as you move through the new year!