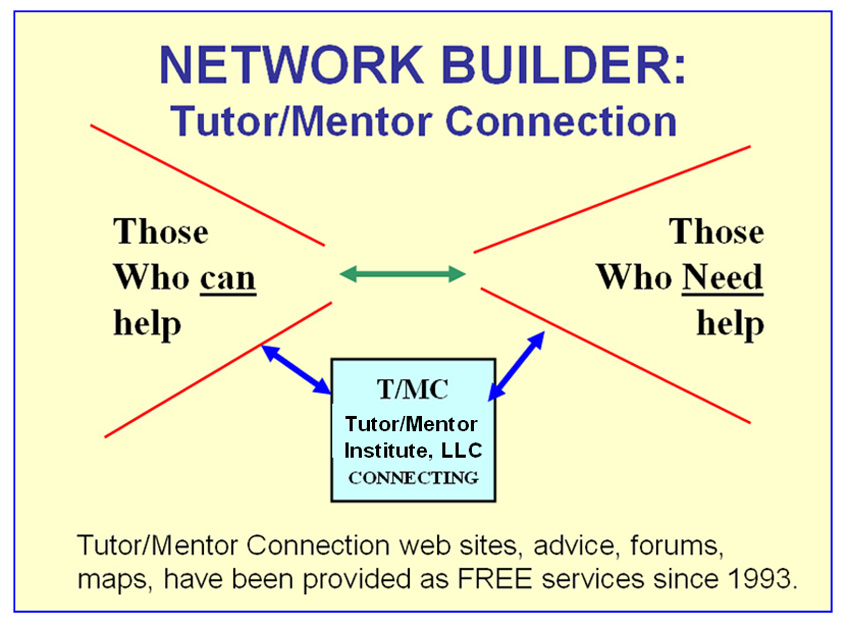 Image created by

Tutor/Mentor Institute, LLC
Since launching the Tutor/Mentor Connection in 1993, I've built an extensive library with research articles and blogs where writers show the cost of poverty, the skills gaps, the drop out crisis, etc. Instead of creating this research myself my goal has been to re-circulate articles written by people with far more skills and research talent than myself. Motivating more people to read these articles and become personally involved in providing resources to support solutions has been my goal. You can find this library at http://tinyurl.com/TMC-Library
I've created dozens of illustrated essays to share my own ideas. http://www.tutormentorexchange.net/library

I started using Pinterest recently to create a library of these graphics. http://pinterest.com/tutormentor/
With each graphic you can find a link to a web page or blog article showing how the graphic is used to communicate an idea or strategy. I'd like to see youth, volunteers and leaders from many places use these graphics to communicate their own strategies for helping build citywide support systems for at-risk youth.
Recently I added a page on the Tutor/Mentor Institute, LLC site about network building and social capital. I think that until more of us are spending time every day trying to increase the number of people who are connected to each other and looking at this information, we won't have the numbers we need to change how social benefit organizations are supported. You can find this page at http://www.tutormentorexchange.net/sna

In addition I launched a map-based directory in 2004 that is intended to help connect volunteers, donors, media, community leaders, etc. (those who can help) directly with volunteer-based tutor/mentor programs who need a constant flow of operating resources, talent, ideas and technology to build and sustain long-term supportive relationships with youth. This directory can be seen at http://www.tutormentorprogramlocator.net. It needs updating but I cannot do that without your help.
If you value this resource and want to help it continue in 2013 please consider adding your own financial support and talent.

Visit http://www.tutormentorconference.org/HOPE_and_OPPORTUNITY.htm
I'd like to hear from you. Email me at tutormentor2@earthlink.net or join one of the forums I've pointed to.
Best wishes to everyone as you celebrate the holidays and start the new year!