Below is the front page from a 1994 Chicago Tribune. It shows where more than 240,000 kids were living in high poverty neighborhoods of Chicago. With maps to show where the problem is, why have leaders not been able to mobilize resources and talent to help kids in those neighborhoods move through school and into jobs by now?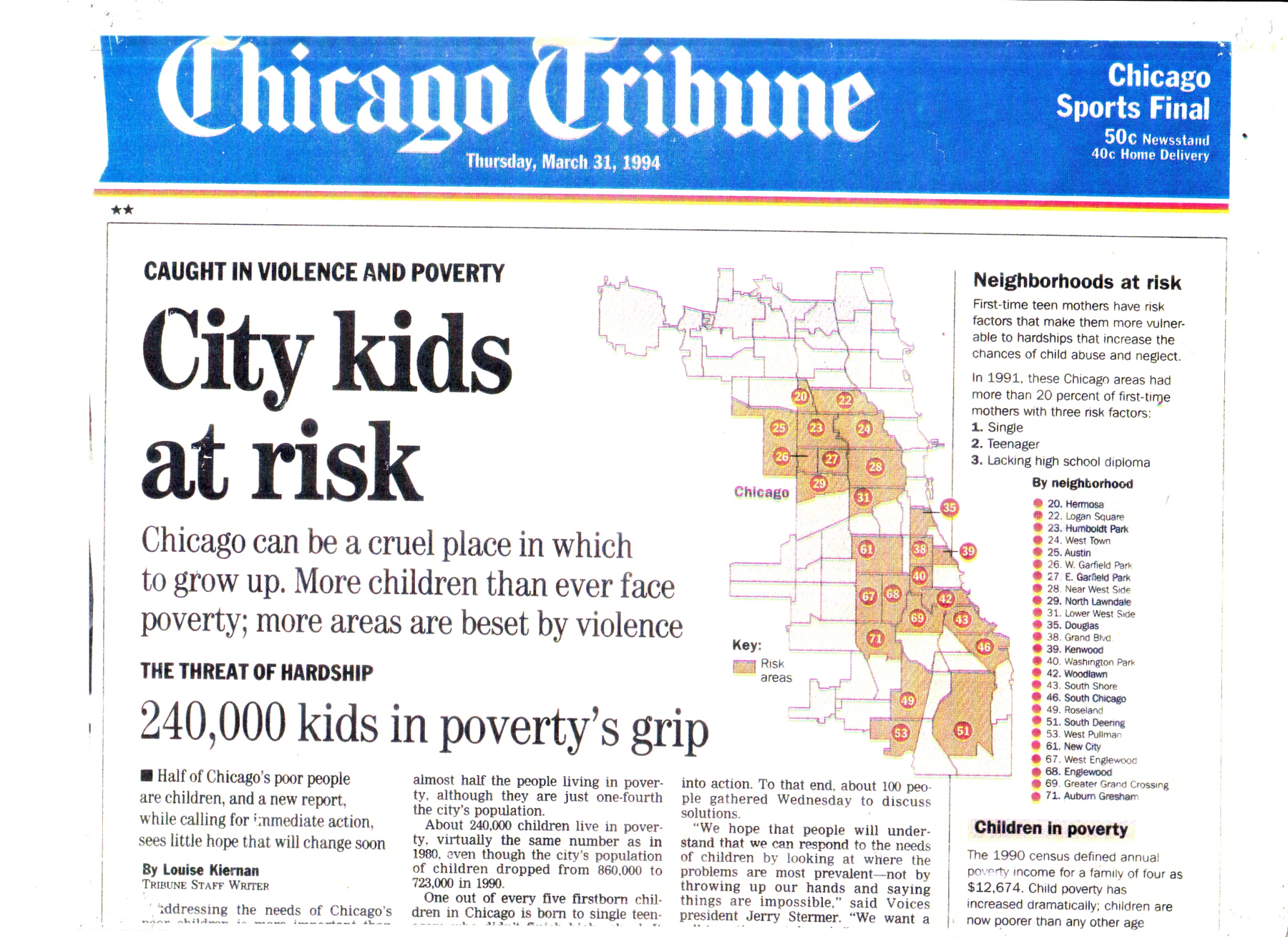 Image created by Tutor/Mentor Institute, LLC

How many millions of dollars have been spent in past 50 years to overcome the challenges of poverty. Why haven't we made more progress? What have we learned? What are some of the obstacles? The Bridgespan Group has released a report titled Next Generation of Community Revitalization: A Work in Progress, which offers a thoughtful analysis of some of the challenges we face in solving complex problems. See http://www.bridgespan.org/next-generation-community-revitalization.aspx?resource=Articles
I summarized these challenges in my own article at http://tutormentor.blogspot.com/2012/04/connecting-networks-opening-silos.html
------------------------------------------------------------------
Without using the internet can we ever connect enough people often enough to understand these issues and converge on solutions that can be supported consistently for decades? Here are some resources/ideas to share with your own learning communities:
Change MOOC! - a Massive Open Online Course. - http://change.mooc.ca/week01.htm
This site models a form of collective learning where students, non profit leaders, parents, volunteers, etc. can do independent, on-going learning about topics of interest. If you understand how a MOOC is organized and its purpose, then you are better prepared to use the resources of this newsletter and the Tutor/Mentor Institute, LLC library of articles.
Learning Change Project supports and empowers a community of change agents - http://gfbertini.wordpress.com/about/
Once you've formed a group of learners, sites like this Learning Change Project can stimulate your thinking and help students and volunteers working in schools and non-school programs become agents of change in their communities. I encourage you to read this article about solving complex problems - http://gfbertini.wordpress.com/2012/04/11/the-decision-making-process-for-complex-situations-in-a-complex-environment/
Learning 2gether - a Space where Educators can Learn Together - This wiki describes an open learning network that has been connecting ESL teachers from around the world for over a decade. http://learning2gether.pbworks.com/w/page/32204849/FrontPage -- I hosted a presentation in this forum on April 15, 2012. The recording is at http://tinyurl.com/2012apr15bassill
Classroom 20.org is another forum where educators can connect for on-going learning. Over 65,000 people have joined in just 5 years. http://www.classroom20.com/
Use Tutor/Mentor Connection on-line library. While you can search Google and find information to help you build and sustain a volunteer-based tutor/mentor program, you can also use the T/MC library where I've already aggregated and categorized more than 2000 links to information leaders, volunteers and donors can use to build a collective understanding of where and why tutor/mentor programs are needed, as well as ways to support them more consistently for a longer period of years. See http://tinyurl.com/T-MC-Library

Many of these links focus on Chicago. If you're collecting similar information, focused on a different city, please share the link to your library and I'll add it. If you'd like to submit a link to the library just register, log in, and use the "Add a New Link" feature to suggest a link. These are moderated and if approved, your link will be added to the site.